J6 Specifications:
Scale Length:
28.59"
Body Length:
20 1/2"
Lower Bout:
16 5/8"
Upper Bout:
11 1/2"
Waist:
9"
Body Depth:
4 5/8" – 3 5/8"
Nut:
1 3/4"
String Spacing:
2 1/4"

Hide J6 Specifications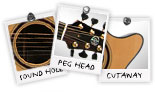 J-6 Jumbo
The first production body in the Berkowitz Guitars line, the J-6 was designed as a hybrid between a full jumbo such as a Gibson J200 and the smaller Gibson J-185. The J-6 Jumbo is a great all around guitar having the best of both worlds of power and headroom to stand up to the most aggressive rhythm player and yet delicate, articulate, and balanced for the most discerning fingerstylist.
The J-6 Jumbo is available with a cutaway as well as with the Wedge™ bidirectional body taper. It comes standard with a 25.5" scale length.
The J body is also available as a 12 string as well an JB-28 or a JB-30 baritone guitar.

View J6 Specifications