F6 Specifications:
Scale Length:
25 1/2"
Body Length:
19 3/4"
Lower Bout:
15 1/2"
Upper Bout:
11 3/8"
Waist:
8 3/4"
Body Depth:
4 3/8" – 3 3/8"
Nut:
1 3/4"
String Spacing:
2 1/4"

Hide F6 Specifications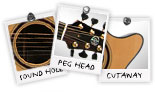 F-6 Concert Series
Introduced in 2004, the F-6 Concert is Berkowitz Guitars' take on the OM/Grand Concert fingerstyle guitar. The F-6 was designed to accomplish two things - present a concert instrument that had the focus, power, and projection of the OM while providing greater support in the lower registers for lower alternative tunings. Its presentation is sweet and articulate for fingerstyle playing yet strong enough to stand up to aggressive strumming. The F-6 is responsive to a wide range of techniques yet has the headroom to stand up to players with the strongest of right hands.
The F-6 Concert is available with a cutaway as well as with the Wedge™ bidirectional body taper. It comes standard with a 25.5" scale length.
The F body is also available as a 12 string as well an FB-28 baritone.

View F6 Specifications